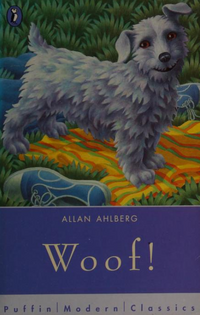 Woof! is a series of British Children books, written by British author Allan Ahlberg and were first published in the 1980's and 1990's. The series followed the adventures of school boy Eric who mysteriously turned into a Dog seemingly at random.
The series was proved to be popular with Children and lead to a Television adaption being created and broadcast on CITV from 1989 - 1997. There were around four books published in the series, Original written by Allan Ahlberg; subsequent Andrew norriss.
Plot
Eric is a perfectly ordinary boy - perfectly ordinary, that is, until the night he turns into a dog! This is the story of his adventures with his best friend, Roy, and their efforts to puzzle out the reason for his transformation.
The Books
Woof!
Woof!: a twist in the tale
Woof: the tale wags on
Woof! The Tale Gets Longer
External links