==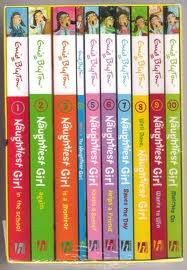 Description==
The Naughtiest Girl series of novels was written by Enid Blyton in the 1940s-50s. Unusually, they are set at a progressive boarding school rather than a traditional one. The school, Whyteleafe, bears a striking resemblance to the independent Suffolk boarding school, Summerhill. Anne Digby, author of the Trebizon series, has written some additional books in the series.
The main character is Elizabeth Allen, a very spoiled girl whose misbehaviour causes her governess to leave. Elizabeth is sent to Whyteleafe School, and is determined to behave so badly that she will be expelled. But, in the middle of her first term, Elizabeth discovers how lonely she was as an only child, and starts to behave. The second main character is her best friend Joan Townsend, who does her best to get Elizabeth to behave. Also, in the second book, The Naughtiest Girl Again, she makes an enemy (Robert Jones) but the two become great friends later on; while the third book The Naughtiest Girl is a Monitor, is as much about Julian as it is about Elizabeth.
Books in the Series
The Naughtiest Girl in the School

(1940)
The Naughtiest Girl Again (1942)

The Naughtiest Girl is a Monitor

(1945)

Here's the Naughtiest Girl!

(1952)
Reader's Reviews
1
Please add your review here.
Parental Guidance
Reading Age:
Reading Aloud Age:
If you like this you might like
External Links