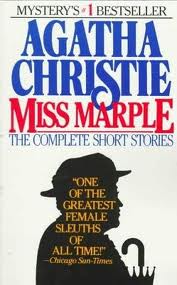 Description
The Miss. Marple series, are a set of detective novels, written by Agatha Christie. They usually have some sort of bad thing happen (theft, murder etc.), which Miss. Marple (along with others) tries to figure out "who did it". They are one of the most popular series of books that Agatha Christie wrote. There have also been numerous TV shows, films and radio shows made of them.
Reader's Reviews
1
Please add your review here.
Books in the series
Parental Guidance
Reading Age: 13+
Read Aloud Age: 12+
Most books have some slightly gruesome bits, i.e. when people are murdered etc.
If you like this you might like
The rest of Agatha Christie's crime novels.
The series of Miss Mallard Mysteries by Robert Quackenbush are several picture books of a duck similar to Miss Marple. This can be a younger alternative to Miss Marple or an introduction to Miss Marple or books just for fun. These stories have been adapted to television as well.
External Links
(add external links here)