The Sandman Will Keep You Awake - The Loop
Play Sound
Description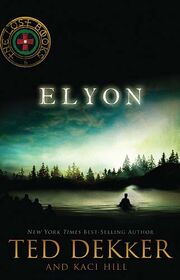 Elyon is a Christian fantasy novel, written by Ted Dekker and Kaci Hill, and published in 2008 by Thomas Nelson Publishing. The novel is the sixth and last in The Lost Books series. It involves two worlds, one in which evil is seen on the outside and the other, "our world", in which evil can hide on the inside.
Elyon's lakes have turned blood red. Is it a curse . . . or the cure?
Shaeda has one blue eye and one purple eye. No one fully knows her story, but her mere gaze eats away at the core of one's being. In his quest for power, Johnis now finds himself in her intoxicating grip.
Assumed identities, a magic amulet, control of the fearsome Shataiki bats, and a troubling alliance with the Dark Priest all converge against the three remaining chosen.
Only Elyon knows what will happen when the forces of ultimate good and evil clash in their final battle. Dive deep with them in this epic conclusion to the Lost Novels–if you dare!
Reader's Reviews
1
Please add your review here.
Parental Guidance
Reading Age: 12+
Reading Aloud Age: 12+
This book contains violence.
If you like this you might like
External links