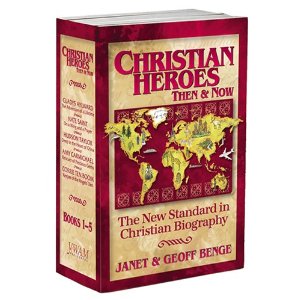 Description
Christian Heroes: Then & Now chronicles the exciting, challenging, and deeply touching true stories of ordinary men and women whose trust in God accomplished extraordinary exploits for His kingdom and glory. Written by Janet & Geoff Benge.
Reader's Reviews
1
A fantastic series for someone who needs some Christian inspiration. These are really inspiring true stories about how if we trust God he will provide. Perfect for a family time read aloud.
2
Please add your review here.
Books in the series
Parental Guidance
Reading Age:12+
Read Aloud Age:8+
(add other guidance here)
If you like this you might like
(please add other books here)
External Links
(add external links here)

This article is a stub. You can help Children's Books Wiki by expanding it.
Community content is available under
CC-BY-SA
unless otherwise noted.