The Sandman Will Keep You Awake - The Loop
Play Sound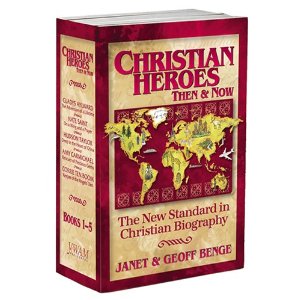 Description
Christian Heroes: Then & Now chronicles the exciting, challenging, and deeply touching true stories of ordinary men and women whose trust in God accomplished extraordinary exploits for His kingdom and glory. Written by Janet & Geoff Benge.
Reader's Reviews
1
A fantastic series for someone who needs some Christian inspiration. These are really inspiring true stories about how if we trust God he will provide. Perfect for a family time read aloud.
2
Please add your review here.
Books in the series
Adoniram Judson: Bound for Burma

Amy Carmichael: Rescuer of Precious Gems

Betty Greene: Wings to Serve

Brother Andrew: God's Secret Agent

C. S. Lewis: Master Storyteller

Cameron Townsend: Good News in Every Language

Clarence Jones: Mr. Radio

Corrie Ten Boom: Keeper of the Angels' Den

Count Zinzendorf: Firstfruit

David Livingstone: Africa's Trailblazer

Florence Young: Mission Accomplished

George Muller: The Guardian of Bristol's Orphans

Hudson Taylor: Deep in the Heart of China

Ida Scudder: Healing Bodies, Touching Hearts

Jim Elliot: Our Great Purpose

John Wesley: The World His Parish

John Williams: Messenger of Peace

Jonathan Goforth: An Open Door in China

Lillian Trasher: The Greatest Wonder in Egypt

Loren Cunningham: Into All the World

Lottie Moon: Giving Her All for China

Mary Slessor: Forward into Calabar

Nate Saint: On a Wing and a Prayer

Rachel Saint: A Star in the Jungle

Rowland Bingham: Into Africa's Interior

Sundar Singh: Footprints Over the Mountains

Wilfred Grenfell: Fisher of Men

William Booth: Soup, Soap, and Salvation

William Carey: Obliged to Go
Parental Guidance
Reading Age:12+
Read Aloud Age:8+
(add other guidance here)
If you like this you might like
(please add other books here)
External Links
(add external links here)

This article is a stub. You can help Children's Books Wiki by expanding it.